Talah New Capital Compound
If you are looking to live in tranquility and luxury for you and your family, therefore, Talah New Capital Compound is the ideal place for you, where comfort and relaxation with enjoying countless services, which made it like a small integrated city, so you don't have to leave it.

Talah New Capital Compound
Location of Talah New Capital Compound 
New Plan Company has chosen, as usual, the location of its project Talah New Capital Compound with great care to be close to all vital areas and the main axes within the new administrative capital, so it built the compound in the seventh residential neighborhood R7.
Places near Talah Administrative Capital Compound 
Tala Administrative Capital project is adjacent to the Diplomatic Quarter and the

Embassies

Quarter.
It is only 20 minutes away from the Monorail station.
Talah New Plan project is located only 15 minutes away from the New Administrative Capital Airport.
It is located near other New Plan projects, such as Atika New Capital Compound, and Serrano Compound.
Furthermore, Talah Compound has a wonderful view of the green river.
You can reach Cairo International Airport within an estimated time of 25 minutes only from the compound.
The Cathedral in the New Capital is just a few steps away from it.
Talah New Plan Compound is located close to the main axes, most notably the Sokhna-Ismailia Road and the Suez Road.
Design of Compound Talah New Capital
Talah New Capital Compound was designed by the best designers and engineers, so the design of the compound came to be dazzling, with touches of elegant European style, and the compound contains apartments and duplexes only, and there are many units that enjoy a swimming pool and a private garden, giving you the feeling of owning your own villa, All while ensuring privacy by separating the buildings with green spaces and artificial lakes.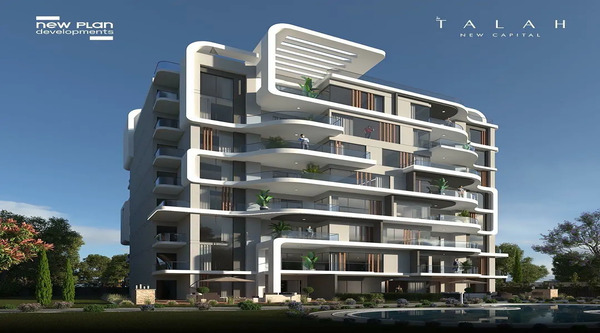 Spaces within Talah New Capital Compound
Talah New Plan Compound covers 30 acres and has an 18% construction rate, with 82% of total area allocated to landscaping and services.
The Owner Company has provided various spaces to meet the needs of all clients, as the spaces start at 125 square meters.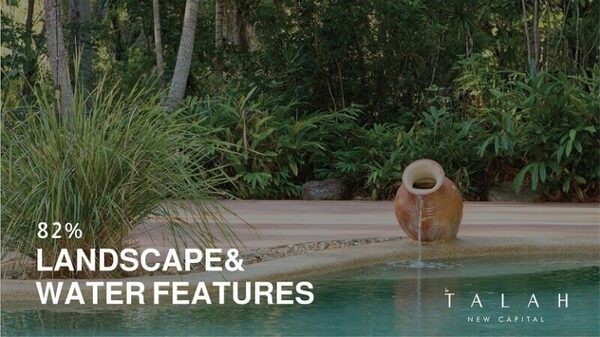 Apartment spaces in Talah Compound
The following are the different types of residential buildings in Tala Administrative Capital Compound:
 1- Alto casa Building:
It has a ground floor + 5 upper floors with 12 apartments (triple family duplexes).
The Alto casa duplex space ranges in size from 210 to 350 square meters, and includes a private pool and garden, as well as an ultra-luxe finish.
 2- VerdeCasa building:
It has a ground floor and six upper floors with 23 apartments.
The VerdeCasa duplexes spaces range in size from 180 to 200 square meters.
while the apartment space ranges from 125 to 200 square meters.
 3- The Tala Compound's buildings:
They are only for apartments, and there are three different models, as follows:
Residential buildings with a ground floor + seven upper floors, with apartments starting at 125 square meters and two bedrooms, and fully finished with Italian kitchen cabinets.
Buildings with a ground floor + seven upper floors, with apartments starting at 150 square meters and including three bedrooms, and fully finished with Italian cabinets.
Residential buildings with a ground floor + 7 upper floors, apartments ranging in size from 220 to 240 square meters, 4 bedrooms + 3 receptions, and fully finished with Italian kitchen cabinets.
Services within Talah New Plan Compound
Tala New Plan includes numerous green spaces and landscapes, giving you a sense of comfort and tranquillity.
Running and cycling tracks are available, away from cars paths.
In Talah New Capital Compound, there is a first aid clinic in case of an emergency.
Additionally, there is a gym, spa, and health club in Talah New Capital for more entertainment.
There are specific areas for events and barbecue parties, where you can enjoy with your family.
Besides, Swimming pools of various lengths and sizes for all ages are also available at Tala New Capital.
There is a club house, equipped at the highest level and a cinema.
Each building has a private garage to prevent cars c

rowding

in front of compound's buildings.
It includes many restaurants and cafes, serving all kinds of food and beverages.
Within the Tala Administrative Capital project, you will find a large mosque, designed at the highest level.
Tala New Capital also has more than one shopping mall to provide all your needs.
There is a 24-hour guarding and security, furthermore the presence of  surveillance cameras throughout the compound.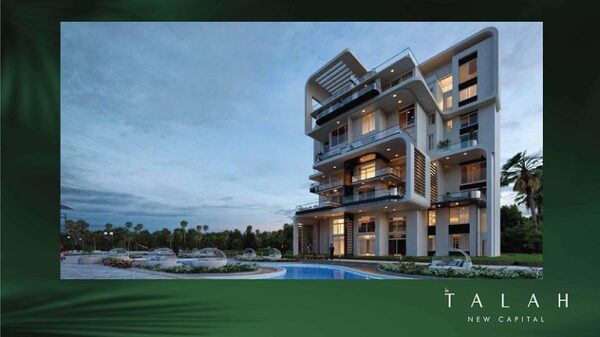 Prices and payment systems
New Plan Company was keen to provide a distinctive package of prices for its project Talah Compound, allowing the chance for everyone who wants to own his dream unit within Administrative Capital.
The following are different prices for Talah New Capital Compound's units:
Alto casa duplex prices start at 4,200,000 EGP, while

VerdeCasa duplex space starts from 3,450,000 EGP.

Prices for apartments with space of 125 square meters and two bedrooms begin at 2,200,000 EGP.

Tala New Plan apartments with 150 square meters and three bedrooms start at 2,700,000 EGP.

Prices for apartments, ranging from 220 to 240 square meters with 4 bedrooms + 3 receptions, begin from 3,850,000 EGP.

Payment systems of Talah New Plan Compound
Paying a 10% down payment and the rest of the total price in installments over 7 years.
You can pay a 15% down payment and the rest of the unit price is paid in installments over 8 years.
It's possible to pay a 10% down payment, 10% after 3 months, 60% over 4 years, and the rest in installments over 10 years.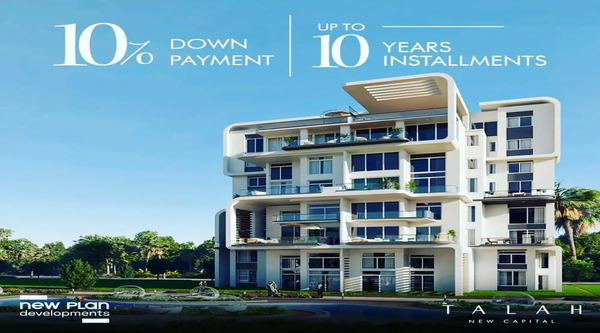 Features of the Tallah Administrative Capital project
Tallah Compound is distinguished by its strategic location in the seventh residential district, which is close to roads and axes, making entry and exit from the project easier.
It is also distinguished by its various units, which allow customers to choose the best one for them.
As well as its elegant designs that are reminiscent of European buildings.
In addition to the project's services, which include medical, recreational, and educational services.
Furthermore, the prices of Tallah Compound are suitable for the customer, in addition to the simple payment systems, making it easier for the customer to own a residential unit in a distinguished and luxurious building.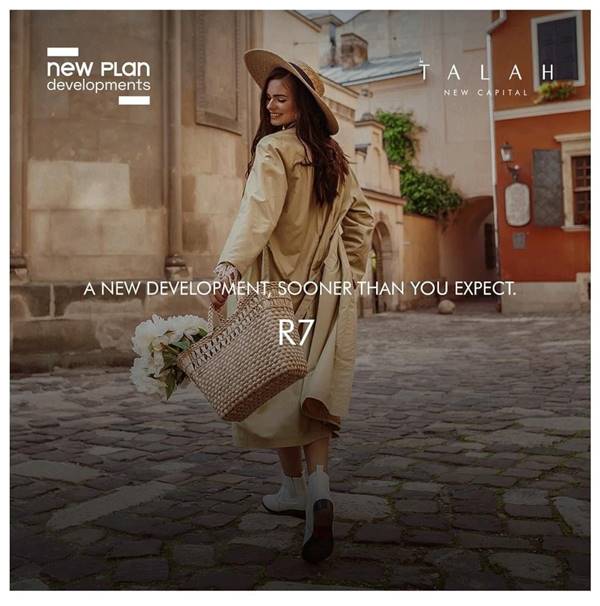 Disadvantages of Talah New Plan Compound
Tala Compound has many features, but some believe that the project's lack of villas is one of its drawbacks. However, it contains Alto casa units attached to a swimming pool and garden, and their areas reach 350 square meters, making these units like a villa but with a lower price than others, and thus it becomes clear to us that this project is completely free of defects.
The owner company and its previous projects
New Plan Real Estate Development Company is regarded as one of the Administrative Capital's first real estate investment firms.
The company was founded by collaboration of Egyptian, Saudi, and Emirati companies, and its board of directors is chaired by Mr. Walid Khaled.
The company has gained the trust of many customers through its huge projects, as the company's sales exceeded billions of pounds.
Previous projects of New Plan Company
Compound Serrano New Capital.
Compound Éclat Portsaid.
Establishing a number of hotels in Sharm El-Sheikh.
A group of residential towers and oil companies in Dubai.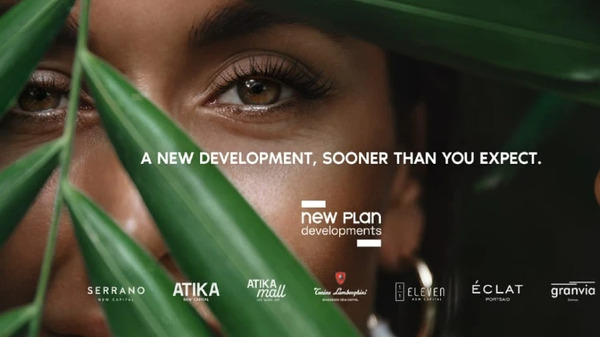 For inquiries and reservations
If you are looking for real estate either inside or outside Egypt, La Costa real estate platform is your main destination to give you whole information about all real estate projects and it is also your easiest way to reach what you want, whether your dream home or your new project in the finest areas with the best prices.