Knowledge City New Capital
Knowledge City New Capital has been designed at the highest level in accordance with the digital transformation strategy to become one of the most important icons of culture, art, and creativity in the entire world, not just in the administrative capital, as it includes the first university in the Middle East that specialized in communication and technology sciences, providing distinguished educational services in partnership with major international institutions.
Knowledge City New Capital
What is the Knowledge City New Capital?
It is one of the projects of the Ministry of Housing and Urban Communities in the New Administrative Capital, which is located west of the Ring Road, and covers an area of approximately 250 acres, at a total cost of about 15 billion pounds.
Knowledge City is managed by the Egyptian Silicon Oasis Company, which began operations with a one-billion-pound investment with the goal of establishing smart villages and technology zones in Egypt, including smart villages in Burj Al Arab, Maadi, and Assiut.
Stages of developing the smart village new capital
The construction of the first phase of Knowledge City began in August 2019 and opened in 2021, with the construction cost of that phase amounting to 3.2 billion EGP .
The first phase of the Knowledge City contains 4 buildings, namely the following:
Applied Research Building.
The Innovation Building.
Technical Training Building.
The Assistive Technology Research and Development Building.
In addition to the Misr Informatics University, which is specialized in the field of communications and information technology.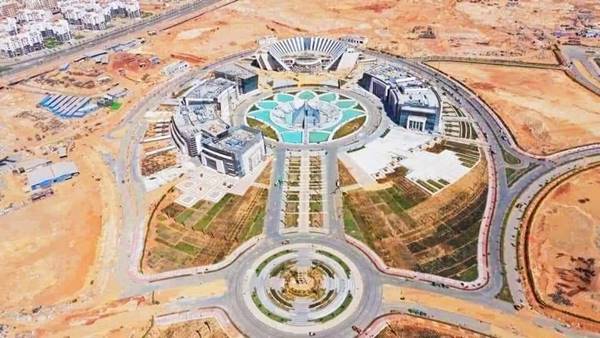 Misr Informatics University New Capital
Misr Informatics University is located in the heart of Knowledge City New Capital.
It is the first informatics university specializing in communication sciences and information technology in Africa and the Middle East.
The cost of Knowledge City is about EGP 8 billion, with a capacity of 10,000 students.
One of the university's goals is to provide students with distinctive educational services in collaboration with important technological universities, such as Purdue West Lafayette University, which is ranked among the top ten universities in this field.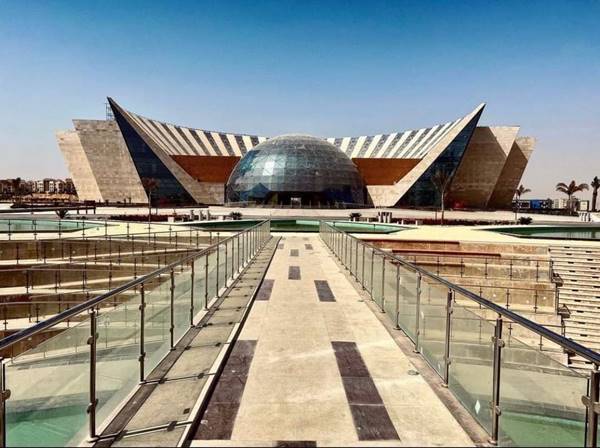 The planning of Knowledge City New Capital
Knowledge City includes Misr Informatics University.
It also contains the first innovation center in Egypt, which extends over an area of 15,000 square meters.
A training building for the National Telecommunications Institute and the Information Technology Institute.
A building dedicated to innovation and applied research, and another for research and technological development.
The Knowledge City system is implemented by the Arab Organization for Industrialization and Fiber Misr Systems.
The City of Culture and Arts New Capital
Many state institutions worked to establish the largest city of arts and culture in the new administrative capital to complete the march of the pharaohs in reviving art, creativity and culture again.
The City of Culture and Arts is also designed according to international standards, on the latest architectural styles.
It was implemented within a period of 30 months.
Because it is the world's largest in terms of services, constructions, and features, the city of culture and arts has captured everyone's attention in all Middle Eastern and global countries.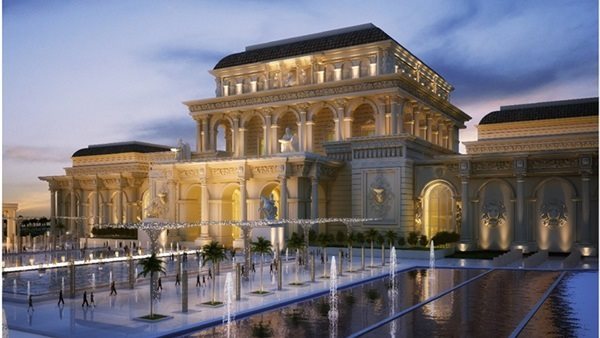 Location of the City of Culture and Arts
The City of Culture and Arts is located in the New Administrative Capital on Ain Sokhna Road and Suez Road.
Two minutes away from Monorail New Capital Train and Green River Administrative Capital.
It is also close to many vital areas and new cities such as Madinaty and the main Teseen Street in the Fifth Settlement.
Design of the City of Culture and Arts
The City of Culture and Arts is designed with the finest international designs to become a beacon for creative cultural art in the Middle East, as this dazzling city extends over an area of 127 acres, including a main hall that can accommodate up to 3,500 people.
This hall is established according to the high-end engineering technologies, including powerful and innovative sound and lighting systems, in addition to the availability of a huge theater for drama and motor performance.
It also includes a group of theaters, exhibition halls, cinemas, the Capital Museum, a musical orchestra, and the Art Museum.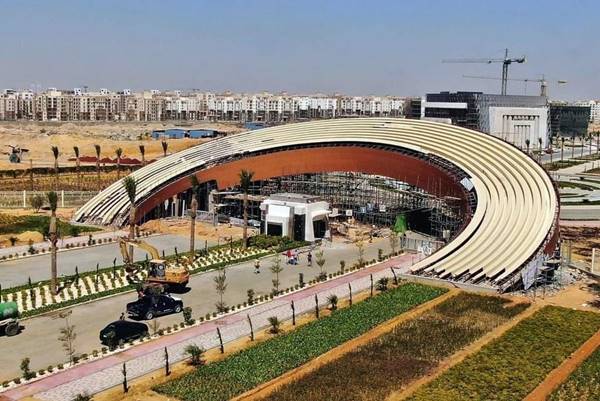 The planning of City of Culture and Arts
The City of Culture and Arts contains a number of cultural facilities such as art galleries, theaters, libraries, and art and handicraft exhibitions. And exhibitions of music, painting, and all traditional and contemporary arts.
A grand hall with a capacity of 2,500 people, equipped with the latest advanced technologies.
A small theater with two halls, each one capable of accommodating 750 people for special shows.
All this is in addition to the pocket theater that can accommodate 50 people.
in addition to the chamber theater, a central library that can accommodate 6,000 people, and a music library.
The City of Culture and Arts project includes the Artistic Creativity Center for Creative Youth.
And a large cinema hall connected to satellites.
Furthermore, 3 training halls and a sound recording studio equipped with the latest equipment and advanced technologies.
A new opera house in the Administrative Capital is considered an essential part of the City of Culture and Arts, as it comprises a main hall that can accommodate 2,000 people, as well as two theaters for drama and music, a wax museum, and a center for artistic creativity.
The main reason for the establishment of the City of Culture and Arts in the New Administrative Capital was to restore Egyptian cinema leadership and the authentic Egyptian cultural spirit.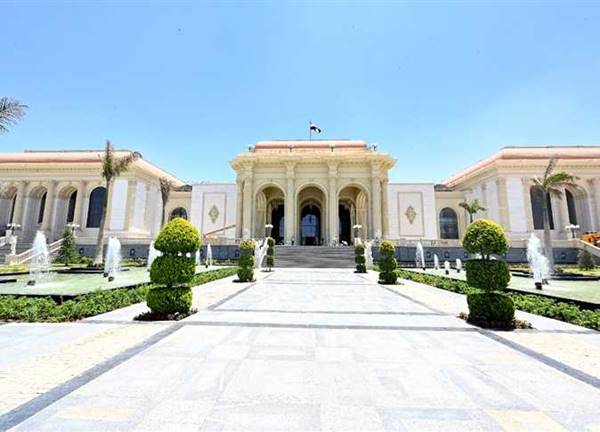 The New Opera House New Administrative Capital
The new Opera House extends over a huge area of 127 acres.
It was designed with the latest international designs with touches of the European Style.
The Opera House in the Administrative Capital includes a large number of theaters and various halls.
It includes a main hall with a capacity of 3,300 chairs, in addition to the presence of an external theater, which makes it 3 times the capacity of the Ancient Opera House in Cairo.
It also includes a large music theater with a capacity of 1,300 seats.
In addition to the Drama Theatre, which can accommodate 700 people.
It includes an open theater with a capacity of 20,000 spectators
Art museum and art exhibition halls for painting and sculpture.
Wax Museum and Center for Artistic Creativity.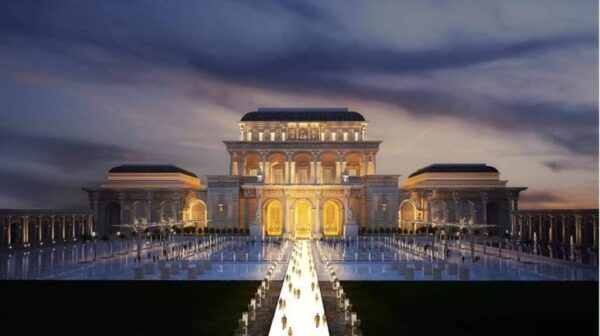 Advantages of the Knowledge City New Capital
Knowledge City New Capital includes all possible services and facilities that make it a beacon of culture and creativity for the whole world.
The following are some of the most important facilities in the city:
A large mosque that can accommodate more than 600 worshipers.
A wax museum featuring wax statues of Egypt's most important and famous historical figures.
An opera house that will be the largest in Egypt and the Middle East.
Large green spaces and trails for people to enjoy the lovely and charming scenery.
An art show to inspire people with various talents such as sketching, sculpture, pottery, handicrafts, and so on.
A vast Egyptian art museum displaying a mix of ancient and current modern art in an unmatched spectacle.
The New Capital's City of Arts and Culture contains a drama theater outfitted with cutting-edge technology.
All halls and theaters in the New Administrative Capital are of the greatest quality, with all necessary lighting, sound equipment, and decorations.
It features a vast library with a variety of departments for various subjects, including a big collection of rare books.
A big musical theater that can seat over 1,200 people.
It is located near Forbes International Tower New Capital.
For inquiries and reservations
If you are looking for real estate either inside or outside Egypt, La Costa real estate platform is your main destination to give you whole information about all real estate projects and it is also your easiest way to reach what you want, whether your dream home or your new project in the finest areas with the best prices.