Midtown Sky New Capital Compound
Midtown Sky New Capital Compound is the ideal choice for all people looking for comfort, sophistication, and housing in the midst of charming nature, and the majority of the land space at Midtown Sky Compound is dedicated to providing services, amenities, and luxury to its residents through landscapes, green spaces, water bodies, clubs, and other means of entertainment.
Midtown Sky New Capital Compound
Details of Midtown Sky New Capital
| | |
| --- | --- |
| Name of the project | Midtown Sky New Capital Compound. |
| Location | in the seventh residential neighborhood R7 within the New Administrative Capital. |
| Total Area | 122 acres. |
| Types of the units | villas, townhouses, apartments, commercial units, administrative units. |
| The owner company | Better Home Developments. |
Location Midtown Sky New Capital Compound
Better Home Company was keen to establish its huge project in the heart of the New Administrative Capital so that it is in a strategic and distinctive location that makes it easy for everyone to move easily away from the crowds, so the choice fell on the 7th district, R7, which connects the most important roads and main axes.
One of the greatest interests of the Better Home Company was to choose the most strategic locations, as the choice fell specifically in the seventh residential neighborhood, as it is one of the most prestigious residential neighborhoods in the region.
Places near Midtown Sky Administrative Capital
Midtown Sky Compound is minutes away from the British University.
Nativity of Christ Cathedral.
Al-Fattah Al-Aleem Mosque.
Embassies and Diplomatic district
Presidential Palace.
Al-Masa Hotel.
The Medical City.
Green River.
Mohamed Bin-Zayed Southern Axis.
The Regional Ring Road.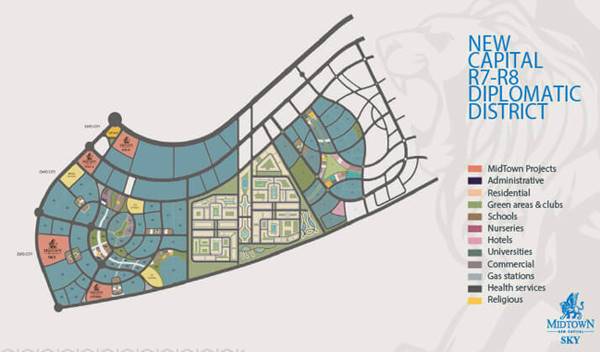 Design of Midtown Sky New Capital Compound
Better Home Real Estate Investment Company worked on choosing the finest international designs that keep pace with the contemporary European taste, in order to establish the Midtown Sky Compound on it, and for that, it sought the help of the largest engineering experts and consultants in the field of real estate construction who worked on using the most powerful materials in construction and foundations and setting the best works for the infrastructure so that it is resistant to various erosion factors as well as earthquakes and lasts for the longest time.
The company also chose the finest design in order to build various residential buildings as well as luxury villas, which are consistent with the most luxurious interior finishes and decorations so that the owners feel distinguished while making sure during the design of the compound that all residential units come with a charming view on the vast green areas.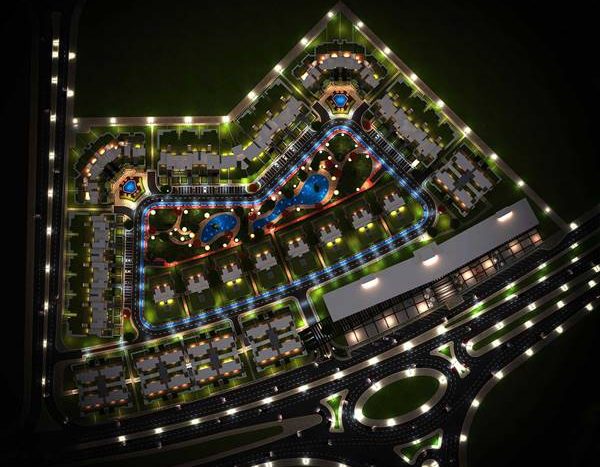 Services of Midtown Sky New Capital Compound

Better Home Company gathered its experience in previous years, to present its Midtown Sky project in a special way, as it is an elegant residential complex, which it succeeded in providing everything necessary for the comfort and well-being of customers, and this is reflected in the provision of a wide range of excellent services, the most important of which are:
A team of guards and security persons at the highest level, plus the compound is equipped with a 24-hour surveillance camera system.
It contains a group of distinguished educational services, international schools, and language schools.
There are a group of famous international stores, and brands for shopping lovers, along with supermarkets, and pharmacies.
There is a specific area for restaurants and cafes designed according to the latest international styles.
Specially designed areas for holding barbecues amidst the picturesque landscapes that give a sense of psychological comfort.
The compound has various recreational areas such as public gardens and parks.
There is a kid's area for children, full of games and entertainment activities.
Areas to sit and read quietly or practice yoga.
Special places for celebrations and weddings.
Private halls for holding conferences and meetings.
A full-service health club, including Spa, Sauna, Jacuzzi, and beauty centers to provide the highest level of relaxation.
A large sports club, games halls, and multiple recreational and sports activities.
The compound has nurseries for children, with all care and education services.
Generators to generate electricity.
Firefighting systems.
Routes designed for cycling.
Other trails for jogging or walking in the picturesque nature.
Swimming pools of various depths and sizes, and there are also swimming pools for women.
Gym with the latest equipment.
Electronic gates in order to provide security for the residents of Midtown Sky New Capital Compound.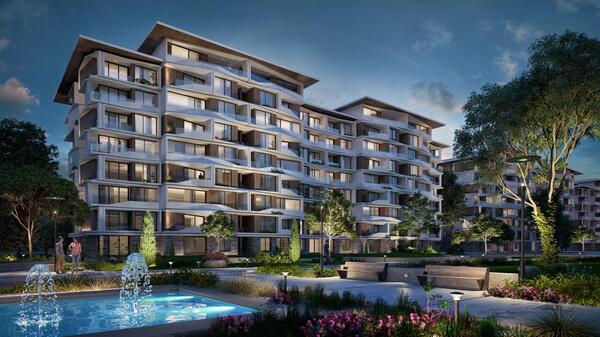 The prices and spaces of Midtown Sky New Capital
Midtown Sky project is one of the largest high-end residential complexes located in the heart of the New Administrative Capital, on a huge area of 122 acres, and has been divided between green spaces and water bodies that give the place a positive spirit, and charm.
Better Home Company has worked hard to diversify its residential units in order to satisfy all needs of customers, and the residential units are divided into villas, townhouses, apartments, commercial units, administrative units, and condominiums.
The unit spaces and their prices are as follows:
Apartment Spaces start from 90 up to 180 square meters, with a price starting from 990,000 up to 1,990,000 Egyptian Pounds.
Town House Villa space 350 square meters, with a price starting from 7,801,500 Egyptian pounds.
Twin House Villa space 350 square meters, with prices starting from 10,125,500 Egyptian Pounds.
The Commercial unit's prices start from 3,950,000 up to 8,950,000 Egyptian Pounds.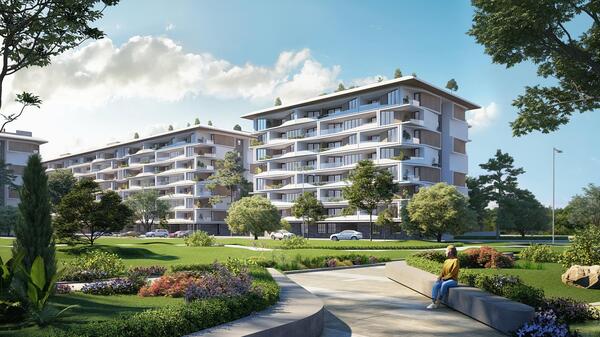 Payment Systems of the units
10% down payment, the rest of the total amount is to be paid over 7 years.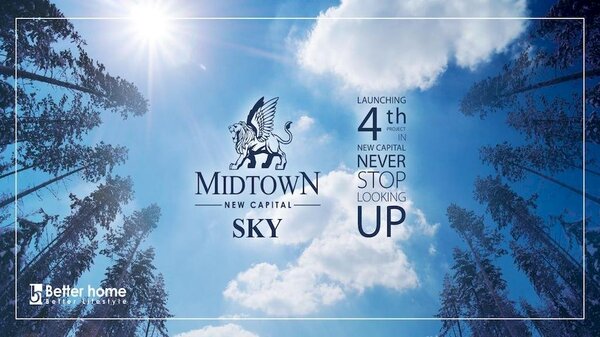 Features of the Midtown Sky project
Midtown Sky project is characterized by its various units among apartments and villas, in addition to townhouses and twin houses.
It is also distinguished by its various areas, from which the customer can choose what suits him.
Furthermore, all units within the compound enjoy wonderful views of green spaces and picturesque artificial lakes.
It is distinguished by its vital location near the best services, as it is located in the Seventh District.
The project is also distinguished by the presence of a large commercial mall overlooking a street with a width of 90 meters.
The owner company has provided affordable prices with easy payment systems of up to 7 years.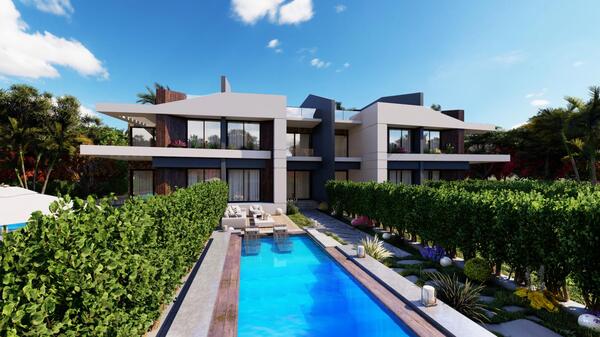 Disadvantages of Midtown Sky New Capital
We will not find any flaws the Midtown Sky New Capital Compound, as it is an integrated project with many advantages that distinguish it from Better Home Company's previous projects, such as various spaces, recreational and basic services, and prices that can be paid with flexible installment systems.
The Developer Company and its previous works

Better Home Developments is a large real estate entity with a distinctive footprint in many mega projects in various fields in the Middle East, as it began its distinguished history in 1992 under the name Better Business in the import and export of information technology components and achieved great successes, since 1997 by being a joint stock company and joining Better Home Real Estate Investment and Development Company in 2003.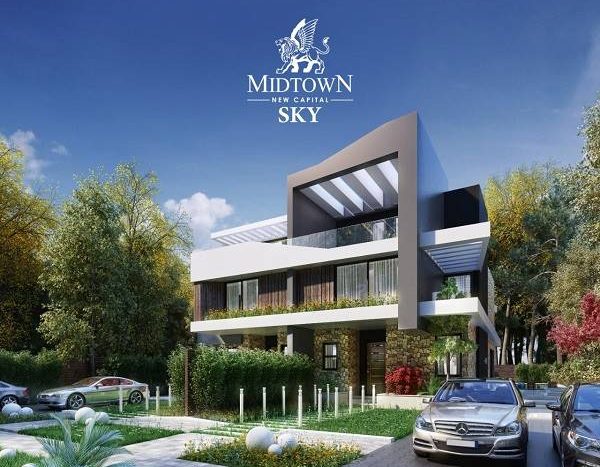 Previous works of Better Home Real Estate Company
Midtown Condo Mall.
Midtown Solo.
Midtown Villa Mall.
Highland Park.
Midtown Solo Mall.
Midtown Villa.
Cairo Medical Center.
For inquiries and reservations
If you are looking for real estate either inside or outside Egypt, La Costa real estate platform is your main destination to give you whole information about all real estate projects and it is also your easiest way to reach what you want, whether your dream home or your new project in the finest areas with the best prices.