Down Town Administrative Capital
The investing in Down Town New Capital guarantees the success of any project you want to start within the Administrative Capital because of its strategic location and the diversity of investment projects and services in Down Town In addition to its competitive unit prices and payment systems up to 10 years.

Location of

Down Town Administrative New Capital
The Down Town neighborhood is located in the heart of New Capital, near the most important landmarks, Where the government neighborhood is located north of the Down Town district, and it is also located west of Al Massa Hotel, east of the second phase of the New Administrative Capital and South of the Green River, Talaat Mostafa and Bin Zayed Axis.
Places near Down Town New Capital



The central monorail station.

Al-Massa Hotel.

The central station of the administrative capital.

The new Cairo Opera building in the capital.

Ministries district.

Regional ring road.

Green River, one of the largest parks in the world.

Knowledge City the administrative capital.

parliament building.

Presidential Palace.

The new museum.
The area of ​​the Downtown



Downtown New Capital area is about 1364 acres, and it is divided into several regions as follows:
Tourist district covers an area of ​​138 acres and it is considered the largest of the Downtown's neighborhoods.

And the fashion district on an area of ​​40 acres.

Shopping and hiking district covers an area of 35 acres.

acres Medical clinics district on an area of ​​37 acres.

Oil companies neighborhood which built on an area of ​​52 acres.

Administrative district real estate on an area of ​​27 acres.

Heritage and Arts District on an area of ​​17 acres.

The gold district on an area of ​​24.
And It is planned that these neighborhoods will include a number of huge commercial centers and major commercial activities in all fields.
The Planning of Down Town New Capital
 It is planned that Down Town will include all major centers and several different fields, such as: commercial, administrative and medical activities.
The area of Down Town in New Capital is divided into several regions as follows:
One of them is entirely allocated to administrative buildings.
And there is an area for commercial buildings that contains many malls, including City Stars and Cairo Festival City.
There is a tourist area that allocated to accessories, fashion stores and shopping centers and gold shops.
There is also an integrated area that includes creativity, imagination and music.
And there is also an area of  green ​​gardens and landscapes designed at modern styles.
One area is specialized for insurance companies and another for the computer and technology devices
In the center of Downtown, there is also a specialized area in data center which includes all country data, such as: financial and economic data, birth and death rates.

Down Town malls division
The area of malls in Downtown has been divided into different acres according to mall's area as following:
35 acres of shopping and hiking malls.

27 acres for administrative malls.

17 acres of malls for food products.

16 acres of malls belonging to insurance companies.
Down Town New Capital Services
The MU19 Down Town neighborhood is distinguished by its strategic location in the New Administrative Capital which makes it a target for investment.
The area includes the following wonderful services:

Area of public service.
A market for the sale of gold.
Eastern and western gardens.
In Down Town, it is a medical district which contains a large number of clinics.
Construction companies and building materials.
It includes a large number of famous shopping malls in the Downtown area of the New Administrative Capital, that contain all brands and products.
Masr Mosque which is the second largest mosque in the New Capital after Al-Fattah Al-Alim Mosque, with an area of 68 acres.
There are 4 institutional zones: oil companies, pharmaceutical companies, electronics, and technology companies, and insurance companies.
There are various types of units in Down Town, such as: Administrative units, commercial units, hotel units, medical units, clinics, pharmacies, and apartments.

And there are many restaurants and cafes in Down Town for serving the most delicious food and drinks

.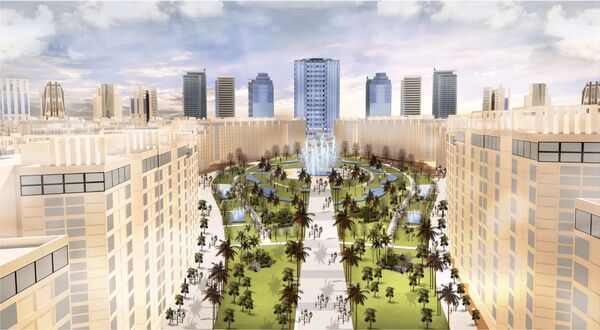 Spaces of Downtown's units
Administrative units: The area ranges from 17 square meters, which is suitable for offices and small projects, and reaches 400 square meters which is suitable for large companies and banks.
Commercial units: there are spaces ranging from 4 meters to 17 square meters, which are suitable for small shops and warehouses, and areas ranging from 30 square meters to 30,000 square meters which are suitable for large commercial malls.
Medical units range in size from 17 to 200 square meters which are used for clinics, medical centers and

Medical lab

.
The price per square meter in Downtown
In general, the administrative units of the New Capital, the price per meter begins at 15,000 EGP.
The price per meter for medical units begins from 25,000 EGP.
In commercial units, the price per meter begins from 30,000 EGP.
Payment systems up to ten years are available with a simple down payment starting from 0%.
Downtown Malls
Front Gate Mall.
Elevado Tower administrative capital. 
City Stars new administrative capital.
3 Point Mall.
Uni Tower Administrative Capital.

Arab mall

New Capital.
The Fort Tower Administrative Capital.
Pagoda Mall Administrative Capital.
Al Massa Mall Administrative Capital.
Diamond Tower Administrative Capital.
Gefal Mall Administrative Capital.
Seventy Mall Administrative Capital
Gaia Business Complex Administrative Capital
Hilton Green River Administrative Capital
Oxygen Medical Tower Administrative Capital
Ivira Mall.
Ezdan Mall.
Trio in the Administrative Capital Mall
Cairo Festival City.
Green River Tower Administrative Capital.
Point 9 Mall Administrative Capital.
Vida Mall Administrative Capital.
Mizar Tower.
Milano Tower.
Solano Mall Administrative Capital.
Marque Mall Administrative Capital.
Cloud 7 Mall Administrative Capital.
Mercury Mall Administrative Capital.
Maple Mall New Administrative Capital.
Iconic Trinity Complex New Administrative Capital.
Point 11 Mall New Administrative Capital.
Jeval Business Complex New Capital.
Advantages of owning a project in Downtown
It has many luxurious commercial and administrative malls which makes it a fertile land for investment projects.
The Downtown Administrative Capital is characterized by the allocation of each field and activity in a specific area.
And It has a variety of green spaces between gardens in the eastern style and others in the western style.
Down Town Administrative New Capital includes most of the basic and entertainment services.
The area has a distinctive architectural character.
For inquiries and reservations