Galala City Ain Sokhna
Galala City Ain Sokhna has tourism potentials as it is one of the most attractive countries for tourists due to the many recreational activities that foreign tourists are looking for, and one of the most important features of Egypt is that its climate is moderate throughout the year, the city also provides medical tourism and it helps in curing many diseases, including treating bones, all this in addition to its distinctive geographical location near Cairo, about an hour drive.
Location of Ain Sokhna
Al Ain Sokhna is located on the coast of the Gulf of Suez in the Red Sea and belongs to the Suez City in Egypt, as it is 55 km away from Suez, so it is one of the closest resorts of the Red Sea to Cairo, as it is about 88 km away from it through the Cairo-Ain Sukhna road, and this is what made it a major destination for many investors and clients to spend a special vacation and at the same time very close to their work in Cairo.
Places near Ain Sokhna City
The city is located near the Cairo Airport, about 170 km away.
Ain Sokhna is located 55 km from the heart of the Suez City.
It is an hour away from the heart of Cairo, so it is considered the closest tourist resort in the Red Sea to Cairo.
Furthermore, the city is approximately 350 kilometers from Alexandria and takes approximately 4 hours to reach.
Al-Ain Al-Sokhna is about 330 km away from Hurghada City.
It is also approximately 50 km away from the port of Ain Sokhna.
which is equivalent to two and a half hours through the Hurghada-Ismailia Road.
It is only about a half-hour drive from the New Administrative Capital.
Ain Sukhna extends for 80 km along the Red Sea coast.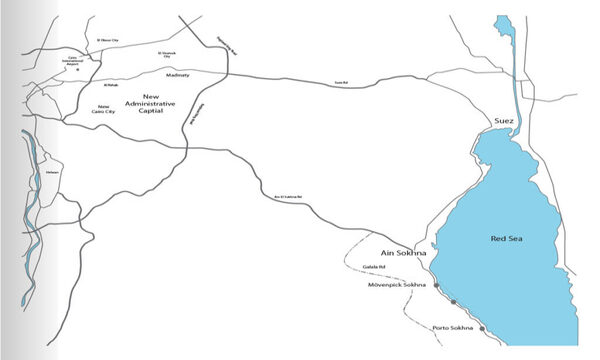 What is the reason for naming Ain Sukhna by this name?
Ain Sukhna City was named by this name in relation to the hot water springs that flow from Mount Ataka in the Gulf of Suez, which is 750 meters above the level of the Red Sea.
The area is distinguished by the presence of many museums and archaeological sites, in addition to the clear water and its wonderful coral reefs, making it a major destination for tourism and spending enjoyable summer holidays.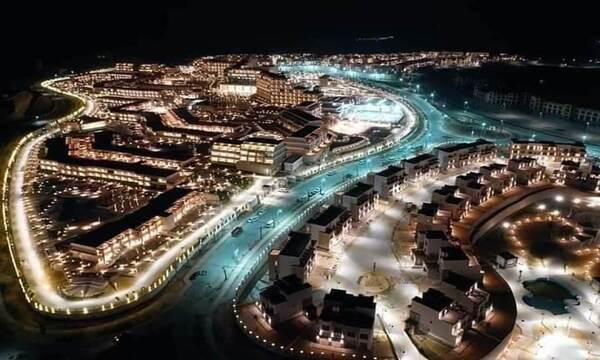 What is the new city of Galala?
New Galala City is considered one of the best cities with full facilities and services in Ain Sokhna, and aims to develop Galala Mountain.
The Engineering Authority of the Armed Forces oversees the construction of the new city of Galala in Ain Sukhna, as the Mount Galala development project includes the following areas:
The Galala new city.
The Galala Plateau.
And the Galala Resort.
The Galala University.
Furthermore, the Galala Plateau road.
Location of Galala City Ain Sokhna
Galala City is located in Ain Sokhna, specifically on a mountain plateau located between Zaafarana and Ain Sukhna, which called the Galala Plateau.
The Authority of the Armed Forces selected this site on Mount Galala, as it is considered a suitable environment for both construction and agriculture, in addition to the possibility of building roads in this area.
The main road of the city of Galala starts from Wadi Hajul and then reaches the new Beni Suef Al-Zafarana Road, which connects Al-Zafarana and Beni Suef, with a length of 160 km.
As a result, the city becomes easily accessible from many roads in a short period of time.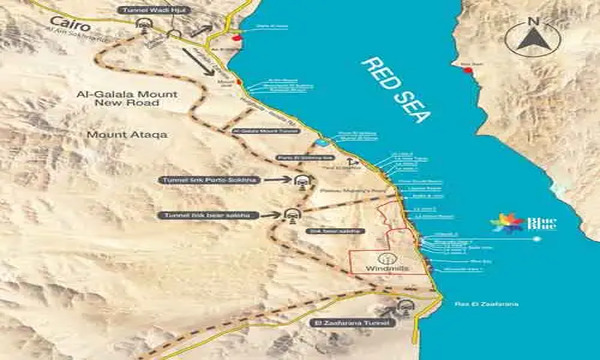 Area of Galala Ain-Sokhna City
Galala City spans 17,000 acres and is divided into the following three sectors:
Sector A.
Sector B.
and Sector C.
The city is at an elevation of 700 meters above sea level, making the city enjoy a wonderful atmosphere all year.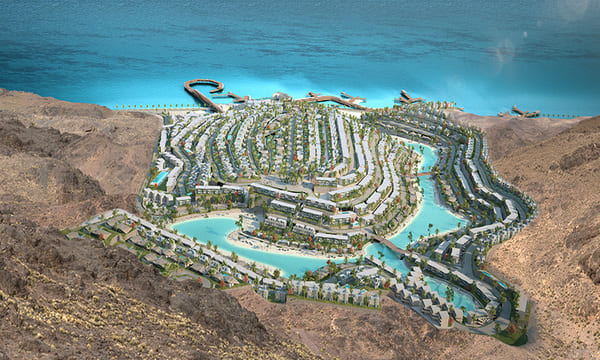 Services within Galala City Ain Sokhna
Galala City not only provided a new place to live in with a wonderful view of the sea, but also provided all its residents with an integrated complex of facilities and services, whether basic or recreational, which achieved the comfort and luxury they dream of in one place.
The following are the most important services within Galala City:
Inside the city, there are also five hotels, including two international hotels.
A high-end health club, whether inside the hotel or on the sea for more relaxation with the family.
There are also many Community center.
The green spaces are vast and Surrounding you from everywhere, making you feel inner psychological peace.
Swimming pools are provided of various sizes to suit all ages.
A recreational kids area, with swimming pools, amusement parks and a private beach.
Cabins on the beach to enjoy more privacy.
Furthermore, there is a number of restaurants and cafes that designed in a European style.
cultural district.
There is also a special area for sports courts to practice all types of sports, including a golf course.
Large commercial malls, with the most luxurious international brands for shopping lovers.
Gym, spa, beauty center, and yoga center.
There is also a marina and yacht marina to enjoy a wonderful cruise.
Medical centers.
There is also a large lake that collects rain and torrential waters.
Especially, Galala City Ain Sokhna has the first sea water analysis station.
Three wastewater treatment plants.
The presence of all government headquarters and hospitals at the highest level.
King Abdullah University, nurseries and schools.
A conference center and a neighborhood for money and business.
There is a factory complex for phosphate fertilizers and marble.
There are many water games on the beach, including snorkeling, diving, windsurfing, and parasailing.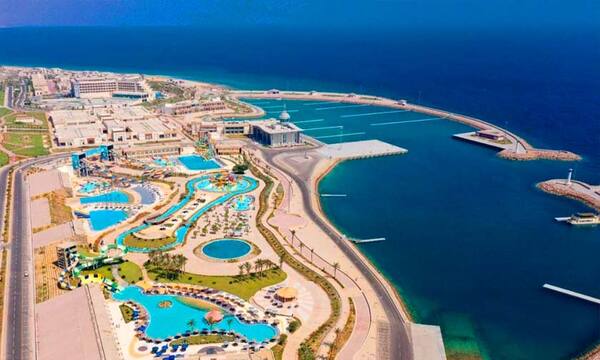 Features of investing within El Galala Ain-Sokhna
One of the most important features of the city of Galala is its strategic location in Ain Sokhna, which is only about an hour away from Cairo.
As the government also paved many main roads to facilitate access to the city of Galala in a short time compared to the rest of the coastal cities.
The city is about 700 meters above sea level, which makes it have a wonderful mild climate throughout the year.
Ain Sokhna also features a wonderful view of the Red Sea in the middle of the mountains and scenic nature in a stunning view.
All major and recreational services and facilities have been provided within the city to meet all customers' needs.
The presence of many sulfur eyes inside it, and these eyes are one of the factors for treating disease and tourism destination.
Galala City is also characterized by the presence of many tourist resorts at all levels to suit all segments of the society.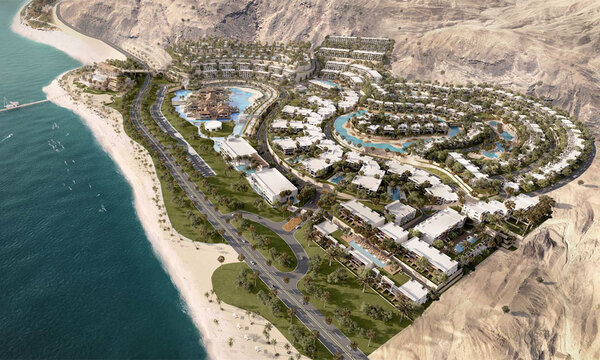 The most prominent projects within Galala City
Galala City includes many national projects of great benefit, such as the city of marble and many factories in various fields, which made the city industrial in addition to being coastal.
The city of marble Galala Ain Sokhna
It was announced that a huge city would be established in the city of Galala Sokhna, namely the city of marble, which is scheduled to take two years to implement.
Galala Al-Ain Al-Sokhna Mountain consists of ancient Arctic rocks, with many mineral veins.
The northern Galala plateau and Wadi Gharba consist of ancient calcareous rocks.
Many of the mountains on the Galala road produce the world-famous Galala marble, which we export abroad.
Therefore, Galala plateau has become the center of many cement, ceramics, petrochemical, iron and steel factories, which include many quarries in which all kinds of raw materials of high quality are available.
Galala University of Science and Technology
A huge scientific edifice located in the Sinai of Galala, which is the Galala University for Science and Technology.
It includes many disciplines such as science, human medicine, engineering, dentistry, media, social sciences, humanities, and others.
As Galala University accommodates more than 12,790 students.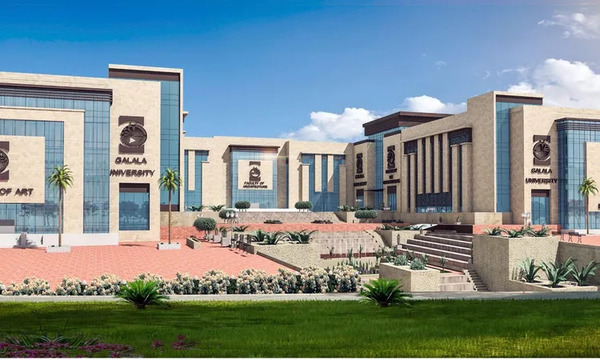 Prices of Galala City Ain Sokhna
It is expected that 9 huge projects will be built in the city of Galala, the most important of which is the IL Monte Galala project, which is located 11 km before Porto Sokhna.
The project extends over an area of 19,000 acres, and it has all types of residential units, apartments, duplexes, villas, and chalets, with spaces ranging from 75 square meters to 175 square meters.
As for the prices of the city of Galala Sokhna, we find that the average price is about 1,900,000 pounds, with the provision of flexible payment systems.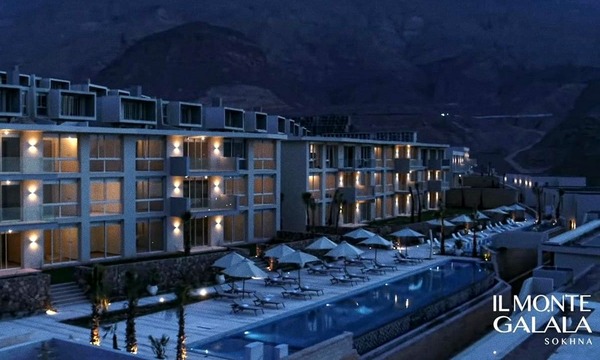 Ain Sokhna and Galala villages
Chalets at IL Monte Galala Ain Sokhna start at 1,833,000 Egyptian pounds.
Jabal Al Ain Sokhna Resort: chalet prices begin at one million and sixteen thousand pounds.
Chalets in Bella Vento El Galala Village in Ain Sokhna start at 1,695,000 pounds.
The Rhythm Ain Sokhna: Prices for chalets begin at £1,500,000.
Chalet prices at Carnelia Resort Ain Sokhna begin at 1,335,000 pounds.
Baymount Ain Sokhna Village: studio prices begin at 1,125,000 pounds.
The chalets in Jura El Galala Ain Sokhna village start at 2,712,000 pounds.
Chalets start at 3.5 million pounds on Via Il Monte Galala in Ain Sokhna.
The Majesty Bay Resort El Galala in Ain Sokhna has chalets starting at 1.760,000 Egyptian pounds.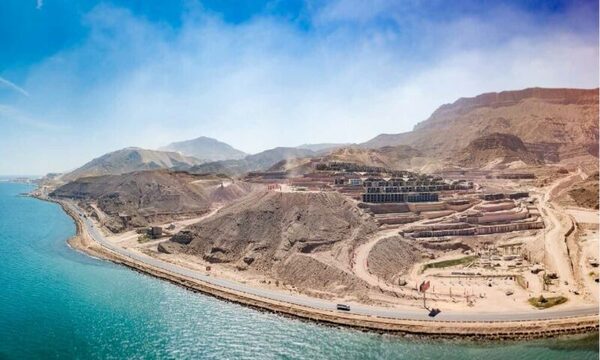 For inquiries and reservations
If you are looking for real estate either inside or outside Egypt, La Costa real estate platform is your main destination to give you whole information about all real estate projects and it is also your easiest way to reach what you want, whether your dream home or your new project in the finest areas with the best prices.