Mountain View Ras El Hekma
Mountain View Ras El Hekma Project is one of the most important coastal projects implemented by Mountain View for Development and Real Estate Investments Company on a very privileged location on the Northern Coast, where the picturesque nature captivates you, overlooking one of the most beautiful beaches in the world, The Mediterranean Beach, which is characterized by its clear blue waters and sand.
Mountain View Ras El Hikma Resort
Details of Mountain View Ras El Hekma
| | |
| --- | --- |
| Name of the project | Mountain View Ras El Hekma Resort. |
| Location | on the northwest coast in the Ras El Hekma area. |
| Total Area | 121 acres. |
| Types of the units | villas, chalets, apartments, twin houses, and town houses. |
| The owner company | Mountain View Developments Company. |
Location of Mountain View Ras El Hekma
Mountain View Resort is located on the northwest coast in the Ras El Hekma area, overlooking the Mediterranean Sea and the Ras El Hekma Mountains, exactly on the kilo 200th of the Alexandria/Matrouh road.
Places near Mountain View North Coast Resort
Cairo is only 3 hours away.
Sidi Abdel Rahman.
El Alamein Airport.
Marsa Matrouh.
The resort is about 15 Km from the Fouka Road exit.
The resort is 2 hours away from Alexandria.
Marina North Coast is 90 Km away.
Roads to reach Mountain View North Coast:
Wadi El-Natrun Road.
New Fouka Road.
Cairo/Alexandria Desert Road.
Design of Mountain View Ras El Hekma
The villas and chalets in Mountain View Ras El Hekma are designed with the latest international architectural styles inspired by the elegant Greek Style, which makes you feel like you are on the finest Greek islands, and the harmony of colors with the picturesque nature surrounding the units gives you calm and relaxation.
The houses are painted white and their windows are enchanting blue to add a charming touch to the resort, with narrow streets topped with stones that look exactly like the streets of the famous Greek village of Santorini, and the developer company takes into account that the most important thing customers looking for is privacy, so it is provided to them fully. All these privileges made Mountain View Ras El Hekma Resort the best resort for 2022.
Phases of Mountain View Ras El Hekma:
The village is distinguished by its exquisite design overlooking the Mediterranean Sea, and it includes 10 swimming pools, surrounded by a wide area of the Crystal Lagoon. It also provides places designated for practicing various activities and water sports.
This phase covers an area of 50 acres and is characterized by its residential units that overlook artificial lakes and various water bodies.
This phase was designed on the highest island in the form of heights, and includes various residential units.
It is the last phase of the Mountain View North Coast project, called Skala Mountain View, and feature beach houses with panoramic sea view for all units.
Evia has all the comforts you could need to live every day as a different and new experience full of joy and true satisfaction. The resort is dotted with stunning natural landscapes of amazing gardens, parks, and artificial lakes that bring pleasure and joy to the heart.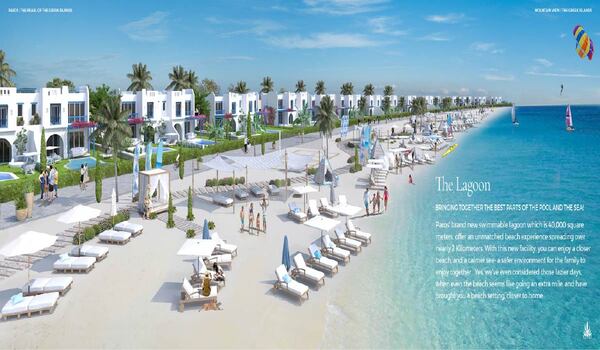 Spaces within Mountain View Resort
The Mountain View Ras El Hekma project was built on a huge area of 121 acres, with a white sandy beach 800 meters long of clear blue waters, where the residential units and chalets are distinguished by their view of the Mediterranean Sea, which all customers seek to own units overlooking it.
The area of buildings and residential units comes with only 20% of the total area of the project, and this area is divided between:
Chalets space starts from 92 up to 132 square meters.
Townhouse space starts from 145 up to 170 square meters.
Twin house space starts from 155 square meters.
Standalone Villa space starts from 225 up to 494 square meters.
Service and features of Mountain View North Coast

Mountain View North Coast Beach extends along the coast on an area of 800 square meters.
A monitored main gate that does not allow anyone to enter unless under certain conditions.
A large area will be set aside for green landscapes, artificial lakes, and water bodies.
Providing medical clinics for all specialties, as well as an emergency section with an ambulance and doctors.
An area designated for picnics and entertainment, in addition to a large shopping area that includes many international stores.
Permanent monitoring of all parts of the resort with a team of security and guards trained at the highest level.
Providing a private beach for women inside the resort to increase privacy.
Garages allocated to accommodate all cars of residents and visitors, preventing crowding.
Paths dedicated to practicing various sports such as walking, running, and cycling.
Elevators and escalators inside the malls for easy movement between floors.
There are a variety of luxurious restaurants and cafes that offer delicious food and services at a high level.
Health Club, gym, spa, Jacuzzi, and social club with Wi-Fi.
The resort uses a solar energy system and electric generators that can immediately replace power outages.
There are numerous swimming pools of various designs and sizes scattered throughout the resort.
Providing a private petrol station for the resort's residents.
There is a children's entertainment area with completely safe and entertaining games.
Aqua Park for lovers of water games and amusement parks.
All units are delivered fully finished including air conditioners.
Providing internet service for all units and throughout the resort.
Providing a fishing marina for fishing enthusiasts.
Inside Mountain View Resort, there are  24-hour pharmacies to serve the residents.
There is a large area for holding cultural activities and various parties.
Prices and payment systems
The space of the units, and its privileged location on the turquoise sea, close to all vital areas, and full features and services in Mountain View Ras El Hekma, are commensurate with the prices offered by the developer company, as:
Chalet prices start from 2,300,000 Egyptian Pounds.
Townhouse prices start from 3,457,000 Egyptian Pounds.
Twin house prices start from 3,766,000 Egyptian Pounds.
Standalone villa prices start from 4,203,000 Egyptian Pounds.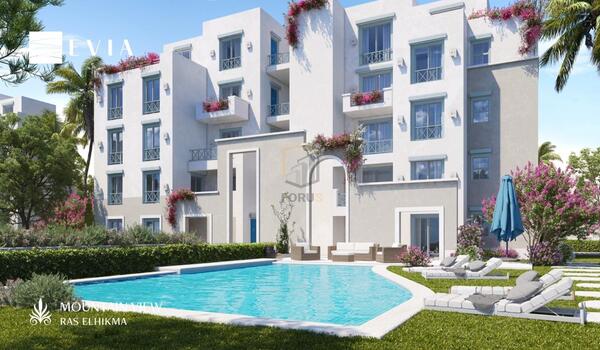 Payment systems of the units
Mountain View Developments offers 4 payment systems to facilitate the process of paying the unit amount that the customer chooses. These systems are:
10% down payment of the unit amount, and the rest is to be paid in installments over 8 years.
10% down payment of the unit amount, and the rest is to be paid in installments over 7 years.
10% down payment of the unit amount, and the rest is to be paid in installments over 6 years.
The customer chooses the unit suitable for him and owns it without paying a down payment, but with installments over 5 years.
The owner company and its previous projects
Mountain View Developments Company is considered one of the largest companies in the field of real estate development, and the it has proven its worth in the Egyptian real estate field.
It is distinguished by many huge projects through which the company has proven that it is one of the leading companies in the field of real estate, and the company eager to be number one in that field.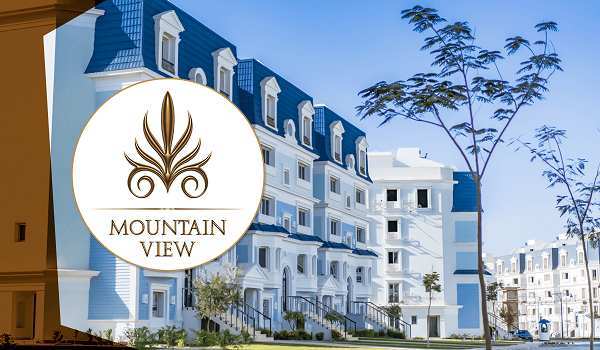 Previous projects of Mountain View Developments
Mountain View iCity New Cairo.
Mountain Hyde Park New Cairo.
Mountain View Executive Residence Katameya.
Mountain View iCity October.
Mountain View Chillout Park.
Mountain View Giza Plateau.
Mountain View Sokhna.
Mountain View Park Island.
For inquiries and reservations
If you are looking for real estate either inside or outside Egypt, La Costa real estate platform is your main destination to give you whole information about all real estate projects and it is also your easiest way to reach what you want, whether your dream home or your new project in the finest areas with the best prices.