O West October Compound
O West October Compound joins the most modern, luxurious, and high-end residential projects in 6th of October City, and it is also characterized by a very vital strategic location, as it is close to the most important areas in the city.
In addition to O West Orascom joining the business of the most famous and largest of the brilliant companies in the field of real estate development and investment, "Orascom Company", which is known for its luxurious projects and exquisite designs.
O West October Compound
Details of O West October Compound
| | |
| --- | --- |
| Name of the project | O West October Compound. |
| Location | 6th of October City. |
| Total Area | 4,200,000 square meters. |
| Types of the units | Apartments, villas. |
| The owner company | Orascom Development Company. |
Location of O West 6th of October
The Developer Company is well aware that the privileged location is one of the most important factors of its success and the best way to attract customers, so it chose a crucial location for the Compound in the heart of 6th of October City, and one of the most prominent features of the O West October project location is that it is close to many important places.
Places near O West October Compound
Movenpick Hotel.
Dream Park.
Al-Ahly Club Sheikh Zayed.
Media Production City.
Mall of Arabia.
Wadi Degla Club is only 5 minutes away.
Juhayna Square is 12 minutes away.
It is located approximately 10 minutes away from the axis.
The compound is located also 3 Km away from Dahshur Road.
7 Km away from the Ring Road.
Misr International University.
6th of October University.
Eco West October.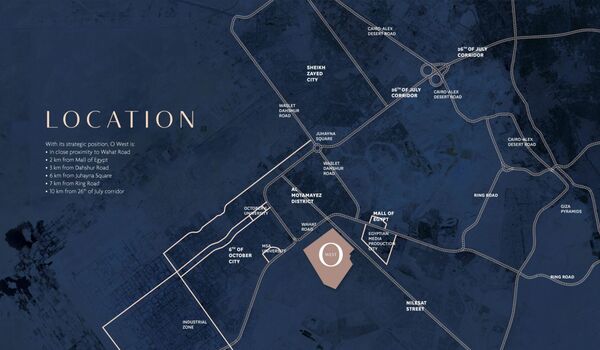 Design of O West Orascom Compound
The distinguished architectural design is the best proof of the real estate company's care and interest in the masterpiece, the O West project.
This is what Orascom Real Estate Development and Investment Company have done by providing a group of architectural design that is unparalleled in the entire Egyptian real estate market and guarantee you a wonderful experience by being in the O West October project. The compound is divided with great care to preserve the privacy of all units.
Orascom Development is distinguished by its great fame and brilliance in the luxurious design of its residential projects, as it has carried out many projects that enjoy the luxury of engineering and architectural design, such as the O West Compound.
The designs of the O West 6th of October compound are inspired by the famous El-Gouna project, which you rarely find in a residential project that comes with luxury and sophistication.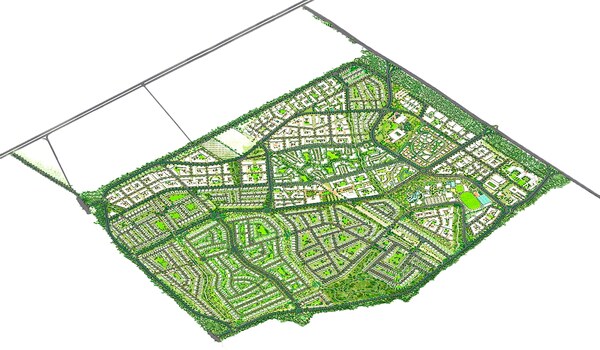 Spaces within O West October Compound
Orascom always seeks to establish its residential projects in a large area that can accommodate all kinds of various services, in addition to providing the necessary spaces for basic and recreational services. As we see this in the very large O West project, which was established at 1,000 acres, with a total size of 4,200,000 square meters.
O West Compound is located at an altitude of 30 to 50 meters above the surrounding area, allowing residents to enjoy the fresh air and a healthy atmosphere away from pollution, similar to the well-known resort of El-Gouna, which has almost the same design features.
And no one forgets the multiplicity of units of different sizes, which meet all the desires and needs of all high-end society classes, which bring them together in a very luxurious and upscale residential project such as the O West project.
50 acres were allocated and divided so that the area is 60% to include villa units only, and 40% for apartments with a total of 900 diverse units.
Types and sizes of units in O West Orascom Compound
Apartment spaces start from 124 to 205 square meters.
Duplex spaces start from 230 to 250 square meters.
Town House spaces 246 square meters.
Twin House with various spaces starting from 429 square meters.
Standalone villas with various spaces up to a maximum of 900 square meters.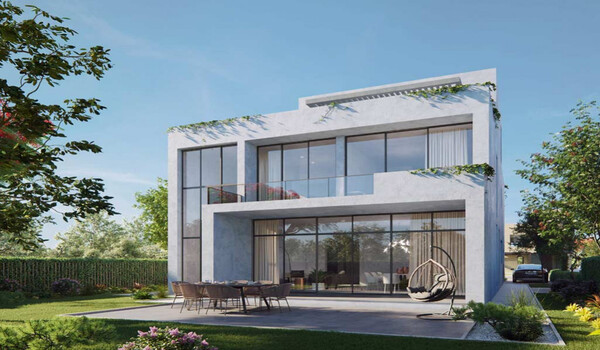 Services and features of O West Compound
The presence of a high-level security system through trained guards, and cameras deployed throughout the compound.
Special services were provided to all resident of O West in order to set up a water station and another for electricity.
Inside the compound, there is a club built on an area of about 35 acres, and it will be delivered with a VIP stage.
The internal transportation service is provided in the compound, such as El-Gouna City.
O West October Compound includes a specialized hospital, in addition to a luxurious and distinctive hotel.
The compound includes an integrated commercial area with numerous shops and malls.
Meeting rooms, administrative and commercial buildings in what is known as the Business District.
O West includes a clubhouse that is fully equipped with all devices that aid in relaxation and recreation, such as a Jacuzzi, spa, and sauna.
There is a restaurant area and cafes on a mountain at an altitude of about 75 meters, with a 360-degree panoramic view.
O West October has long trails for healthy sports like walking, running, and cycling.
Services for receiving complaints and suggestions and working to resolve them.
Green spaces and artificial lakes.
Several swimming pools.
An area of 35 acres has been allocated for largest sports club equipped with all modern devices.
A huge commercial area.
There is a medical care center that includes many specialized clinics, with the latest and best medical equipment.
It includes a long tourist walkway to enjoy the scenic green spaces that surround o west compound from all sides.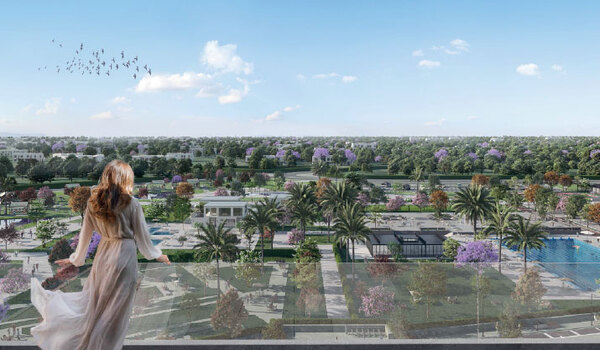 Prices and payment systems
The O West Compound is distinguished by prices that are the best in the region, in addition to providing flexible and very easy payment systems that make it easier for anyone who wishes to own a unit in the project.
Three-bedroom unit prices start from 5,500,000 Egyptian Pounds.
Villa's prices start from 8,900,000 Egyptian Pounds.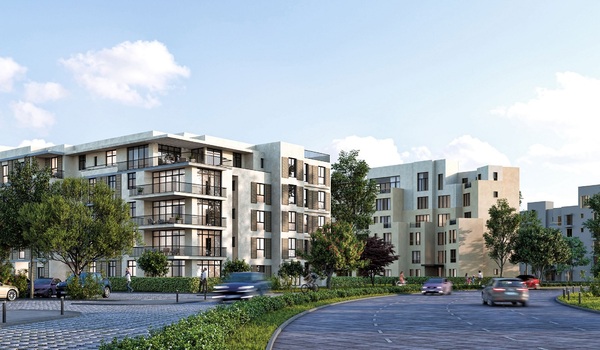 Payment systems of the units
5% down payment, and the rest of the amount is to be paid in installments over 9 years.
10% down payment and the rest of the amount is to be paid in installments over 7 years.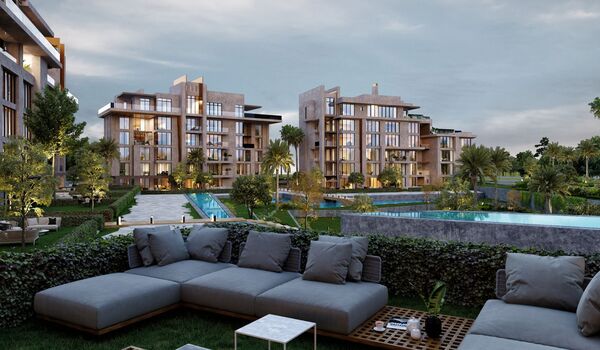 The disadvantages of O West 6th of October Compound
It is hardly mentioned at all and cannot be compared in any way to the advantages of O West Compound, as executing this large project has worked to avoid all the defects of the compound and to make what is better for all those wishing to book any of the various residential units inside.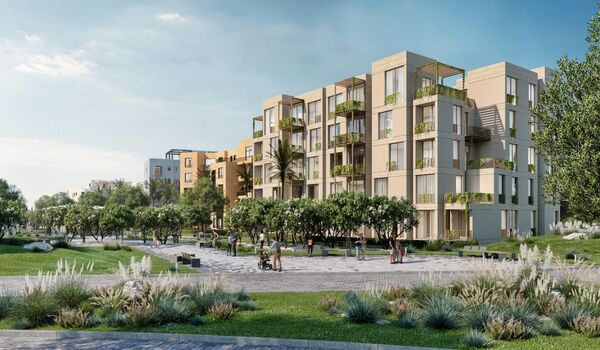 The owner company and its previous projects
O West October Compound project was established by Orascom Development Company, as it is one of the largest real estate development companies in Egypt. It has developed many wonderful real estate projects that are characterized by accuracy, luxury, and beauty, and the company is distinguished by the fact that it meets all the needs of its customers in its previous projects.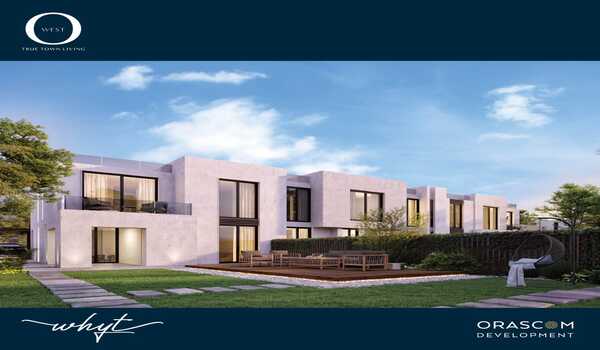 Previous projects of Orascom Development Company
El-Gouna Hurghada.
Taba Heights.
Byoum Hotel.
Makadi Heights Red Sea.
For inquiries and reservations
If you are looking for real estate either inside or outside Egypt, La Costa real estate platform is your main destination to give you whole information about all real estate projects and it is also your easiest way to reach what you want, whether your dream home or your new project in the finest areas with the best prices.