Mountain View Fifth Settlement Compound
Mountain View Fifth Settlement Compound is an exceptional residential project because it combines all advantages and all services in one place only, as it has a privileged location, luxurious units, and multiple spaces, and Mountain View Fifth Settlement prices are the best in the entire real estate market, in addition to the easy payment system offered to its customers.
Details of Mountain View Compound
| | |
| --- | --- |
| Name of the project | Mountain View Fifth Settlement Compound. |
| Location | in the Fifth Settlement. |
| Total Area | 37 acres. |
| Types of the units | Apartments, twin house, town house, villas. |
| The owner company | Mountain View Developments. |
Location of Mountain View Fifth Settlement
Mountain View Fifth Settlement Compound fulfills the desire of its customers to live in an upscale and service area at the same time, because it is located in the Fifth Settlement, the most prestigious and quiet area in New Cairo, which is characterized by its proximity to many important areas, roads, main axes, government agencies, schools, and universities.
Places near Mountain View Fifth Settlement Compound
Al-Teseen Street, the most important street in New Cairo.
Al-Thawra Street is approximately 25 minutes away.
The Address East Compound.
Al-Rehab City, which is a short distance away about 7 minutes.
Madinaty is a few minutes away.
Nasr City, Family Park is about 15 minutes away.
New Administrative Capital.
The American University.
Future University.
The British University.
It is easy to reach the Mountain View Compound from many important axes extending to the heart of New Cairo and strategic roads within a short distance from it, including:
Ring Road.
Ain Sokhna Road.
Suez Road.
Design of Mountain View New Cairo

Mountain View Fifth Settlement made a real leap in the field of designing residential projects, its creative design is based on the 4D system (4-dimensional system).
The project is designed in a way to ensure maximum safety and tranquility for its residents, as the roads designated for the movement of cars were constructed away from the places where pedestrians walk.
According to the 4D system, the compound was divided into four areas:
The island area.
The Corniche area, which connects all parts to each other.
The Gardens area, and Picnic areas.
Finally, the Roads area is equipped with gates that operate with a smart electronic system.
The secret of the project's luxury is also due to its engineering design inspired by the European and American style, as it appears as if it were 6 islands connected to each other through bridges, main roads, and a corniche, but each of them has a special character.
Spaces within Mountain View Fifth Settlement
Mountain View 1 was built on an area of 37 acres, or 153,000 square meters, with landscapes and water bodies occupying the majority of the compound and state-of-the-art residential units such as apartments, palaces, and standalone villas with integrated services occupying the remaining small percentage, estimated at around 70,000 square meters.
The residential complex includes more than 156 units, and their area varies according to their types, as follows:
Type A units with an area of 603 square meters.
Type B units up to 502 square meters.
Type C units up to 360 square meters.
Type D units up to 355 square meters.
Services of Mountain View Fifth Settlement Compound

All the interior units are in harmony with the surrounding landscape from every direction, giving everyone a sense of psychological comfort and calm.
All units were connected to a central internet connection with high-quality speeds.
The spread of modern television surveillance cameras everywhere and secure electronic gates.
As well as highly trained guard crews working 24 hours a day at the entrances and exits.
Swimming pools with different shapes and sizes for all ages.
The presence of an excellent infrastructure that contains all the required services such as electricity, gas, and internet wires.
Artificial lakes and dancing fountains with international designs are scattered admist green spaces.
A commercial mall has been designed that includes a large number of stores and shops.
A social club with international designs, with many recreational and cultural activities suitable for all age groups.
Medical Centers that include clinics that serve all specialties and are equipped with the latest advanced devices.
A supermarket contains all kinds of consumer goods that residents need.
There is a health club includes full services, including spa units, a sauna, and Jacuzzi for more relaxation.
A number of cutting-edge restaurants and cafes with exquisite design and excellent service.
A large sports club that includes a group of wide playgrounds so that residents can play their favorite games.
A walkway and tracks designated for walking, running, and cycling away from the main roads for cars.
There is a kids' area within the compound.
It contains gym units that contain the latest sports equipment.
Large secure garages to prevent car accumulation in front of the residential units.
Halls with international designs and exquisite decorations equipped with the latest sound and display systems.
High-quality cinemas to display all kinds of international favorite movies, for more entertainment.
Prices and payment systems
The prices within Mountain View Fifth Settlement Compound for all units in various spaces are characterized by a high degree of flexibility and are suitable for all target groups of customers, compared to many unique advantages and unlimited services that they can benefit from on a large scale.
Unit prices vary according to their areas and locations.
The units' price starts from 5,400,000 Egyptian Pounds.
Payment systems of the units
As for the payment systems in Mountain View, they are varied, as follows:
10% down payment and the rest of the unit amount is to be paid in installments over 6 years without interest.
15% down payments and the rest of the unit amount is to be paid in installments over 7 years without interest.
25% down payment and the rest of the unit amount is to be paid in installments over 8 years without interest.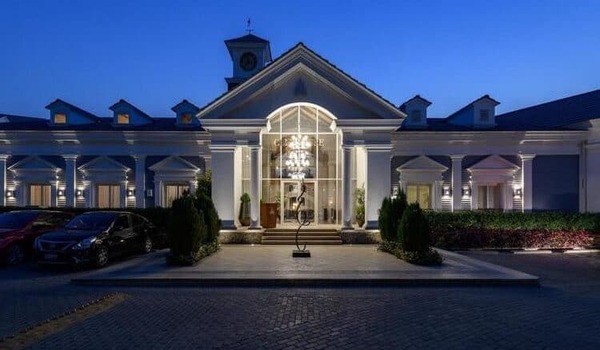 The owner company and its previous projects
Mountain View for Development and Real Estate Company has high credibility in the Egyptian market because it is keen to apply international quality standards in the implementation of its projects, as its designs appear to be of a high degree of luxury and modernity and enjoy a high degree of privacy, in addition to its commitment to delivering many units on time at premium prices, convenient and diversified payment systems that suit many customers and investors.
Previous projects of Mountain View Company
Heartwork New Cairo.
Skala Mountain View – North.
Crete Islands.
Mountain View Park Lake.
Mountain View I City Park Island.
Mountain View Executive.
Rhodes Island Resort.
Paros Resort.
For inquiries and reservations
If you are looking for real estate either inside or outside Egypt, La Costa real estate platform is your main destination to give you whole information about all real estate projects and it is also your easiest way to reach what you want, whether your dream home or your new project in the finest areas with the best prices.