Vinci New Capital Compound
After the overwhelming success achieved by the IL Bosco New Capital, which was implemented by Misr Italia Properties, which is well-known in the Egyptian real estate market, the company decided to launch a new start in the heart of the New Administrative Capital, which is the upscale Vinci New Capital Compound, which exceeded all expectations in terms of wonderful designs and the distinctive division in a way that achieves the greatest luxury, comfort, and safety for customers.
Vinci New Capital Compound
Details of Vinci Administrative Capital
| | |
| --- | --- |
| Name of the project | Vinci New Capital Compound. |
| Location | in the privileged location of R7, in plot G4. |
| Total Area | 110 acres. |
| Types of the units | Apartments, villas, hotel units. |
| The owner company | Misr Italia Developer Company. |
Location of Vinci New Capital Compound
Vinci New Capital Compound is located in the most distinctive places within the New Administrative Capital, specifically in the privileged location of R7, in plot G4.
The Compound is located on the main axes that connect the New Administrative Capital to each other, it is in the heart of the New Capital.
Places near Vinci New Capital Compound
The 8th neighborhood in which the Anakaji New Capital project is located, one of the most recent projects in the New Capital.
The project is also located near the Presidential Palace, in the Diplomatic Area, near the Embassies Quarter and the Fairgrounds.
Vinci New Capital Compound is located near Green River administrative Capital, and Central Business District New Capital.
It is also located close to the Christ Cathedral and Al-Fattah Al-Alim Mosque.
In addition to its proximity to the Southern Axes of Mohamed Bin-Zaid, the Regional Ring Road, and the Central Axes.
Design of Vinci Administrative Capital Compound
Vinci Compound project is distinguished by high-quality architectural designs with touches of the elegant European style, giving you a sense of luxury and sophistication as soon as you enter the compound; additionally, Misr Italia Company took into account all tastes, allowing each customer to select the designs and finishes that he desires.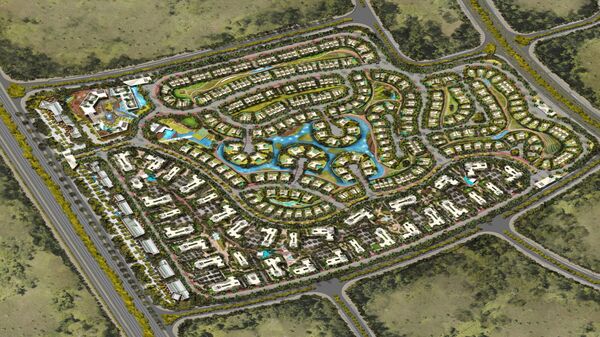 Spaces of Vinci New Capital Compound
Vinci Compound is an upscale complex that will fulfill the dreams and aspirations of its resident's thanks to its large space that was optimally exploited, which contributed to providing all the needs of the residents, as the compound was built on a huge area of 110 acres, approximately 462 kilometers.
The developer company has allocated the largest percentage of the space for services of all kinds, as the construction area does not exceed 20% of the total land area, for more comfort and luxury that the customer will enjoy living within this prestigious edifice.
It includes different designs of units, as it varied between villas by 70%, apartments by 25%, in addition to 5% allocated to hotel apartments, and the units differed in their spaces to satisfy all need, and these spaces are as follows:
Typical apartments, start from 133 up to 187 square meters.
Apartments with Gardens, start from 177 square meters.
Independent apartments, starting from 162 up to 190 square meters.
Town-House, starting from 157 up to 340 square meters.
Twin-House, starting from 309 square meters.
Small villas, starting from 357 to 465 square meters.
Medium villas, starting from 392 to 446 square meters.
Large villas, starting from 484 to 541 square meters.
Sky villas, starting from 299 up to 339 square meters.
Garden villas, starting from 214 up to 241 square meters.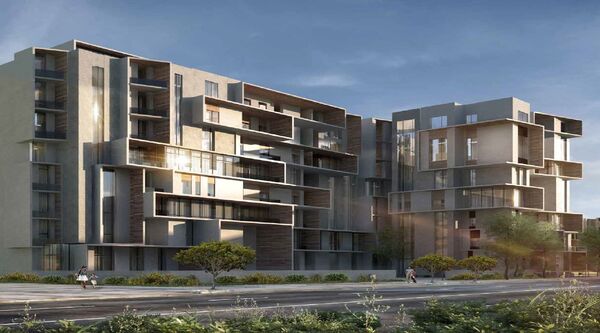 Feature and Service of Vinci New Capital Compound
The Vinci New Capital Compound is characterized by many features and services, which makes it the first and best choice for customers, such as:
Inside the Vinci Compound, there is a walkway for exercising, running and cycling away from the road of cars, amidst the picturesque nature and fresh air.
Restaurants and cafes, designed at the highest level to serve all kinds of international food and drinks.
Number of swimming pools of various sizes and widths are available within the compound to suit all ages.
The compound includes spacious garages for cars to reduce overcrowding inside the compound to preserve the property, as surveillance cameras and sound alarms were provided.
Kids' area, with a safe place was chosen, equipped with the latest various recreational games suitable for their ages, to spend the happiest times.
Installing many high-quality surveillance cameras to monitor all movements to maintain the safety of the residents and guests.
A health club equipped with the latest equipment, containing a spa, Jacuzzi, and sauna rooms for rest and relaxation.
Providing a global commercial center with many different stores equipped with the latest brands.
Beautiful artificial lakes.
All units have wonderful and relaxing views, due to the presence of green spaces.
Free internet service, Wi-Fi.
Central air conditioning.
Firefighting system.
There is a sports club that includes many various sports.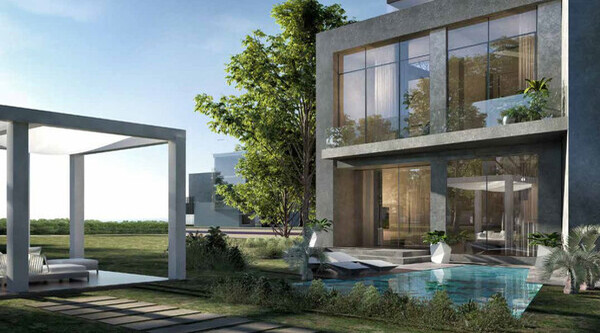 Prices and payment systems

The prices of the Vinci New Capital Compound were distinguished by their suitability for all investors and customers, and due to the diversity and differences of the units, the prices varied between apartments, villas, and twin houses, and the prices were as follows:
Apartment prices start from 2,131,000 up to 4,563,000 Egyptian pounds.
Twin House prices start from 10,162,000 up to 10,187,000 Egyptian Pounds.
Town House prices start from 7,773,000 up to 9,042,000 Egyptian Pounds.
Villas of all kinds start from 4,857,000 up to 18,002,000 Egyptian pounds.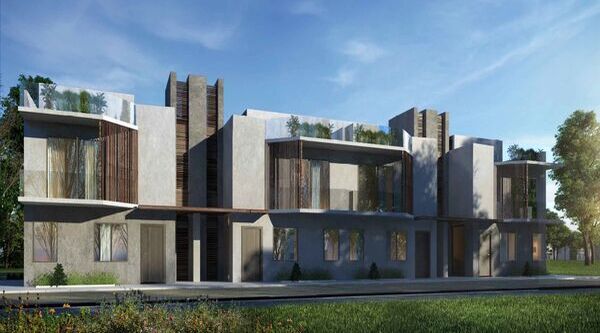 Payment systems of Vinci New Capital Compound
The developer company was keen to provide an opportunity for all customers and investors wishing to own one of the units in the project, and therefore, it provided a package of flexible payment systems that provide every investor with a fair opportunity to invest in the Vinci New Capital Compound.
They can enjoy one of the convenient installment and payment systems announced by the company, as it has developed a variety of systems that suit all customers according to their different needs, as follows:
10% down payment and the rest of the amount is to be paid over 8 years.
5% down payment + 5% after three months + 10% upon receipt, and the rest over 9 years.
10% reservation and contract down payment and the rest over 9 years.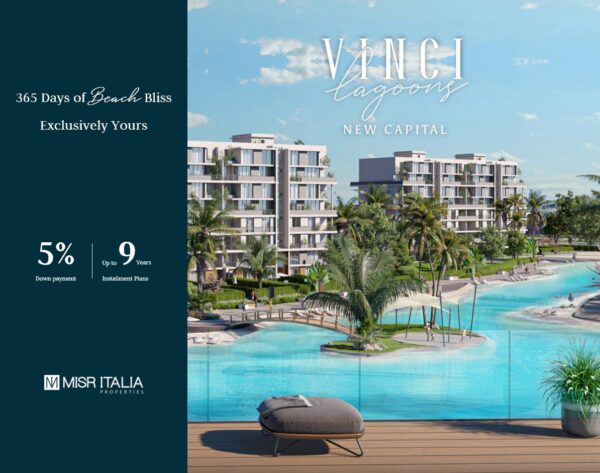 The Developer Company and its previous works
Misr Italia Developer Company is the owner company of the Vinci New Capital Compound, as it was established in 1998 and has been able to prove its success since its inception, until now.
All the real estate projects that the company has built are characterized by many services and features that make them unique and unparalleled projects.
The company is also a pioneer in the field of real estate development, and it has many distinguished projects inside Egypt, Misr Italia Company is famous for innovating everything new with its own projects.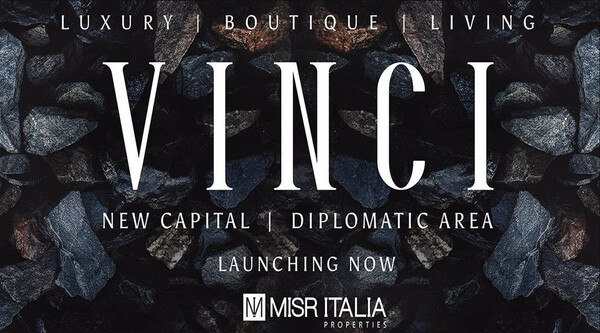 Previous projects of Misr Italia Properties
La Nuova Vista New Cairo.
Kai Sokhna.
IL Bosco City Mostakbal City.
Cairo Business Park New Cairo.
Italian Square 6 October City.
Mousa Coast.
For inquiries and reservations
If you are looking for real estate either inside or outside Egypt, La Costa real estate platform is your main destination to give you whole information about all real estate projects and it is also your easiest way to reach what you want, whether your dream home or your new project in the finest areas with the best prices.