Silversands North Coast Resort
Ora Developments has launched its latest project on the North Coast, Silversands North Coast Resort which has a strategic location at kilo 222 on Alexandria-Matrouh Road with a direct charming view of the Mediterranean Sea, the resort offers a diverse range of luxurious units with varying sizes, countless basic and recreational services to spend irreplaceable summer vacation within one of the most beautiful resorts on the North Coast.
Silversands North Coast Resort
Details of Silversands Resort
| | |
| --- | --- |
| Name of the project | Silversands North Coast Resort. |
| Location | at kilo 222 on Alexandria-Matrouh Road. |
| Total Area | ​​485 acres. |
| Types of the units | chalets, twin houses, and standalone villas. |
| The owner company | Ora Developments Company. |
Location of Silversands North Coast Village

Silver Sands Resort enjoys an exceptional location on the North Coast, specifically at kilo 222 on Alexandria-Matrouh Road between Sidi Heneish and Almaza Bay, this area features charming views of the seashore and its white sands while also being between the most important roads and areas within the North Coast.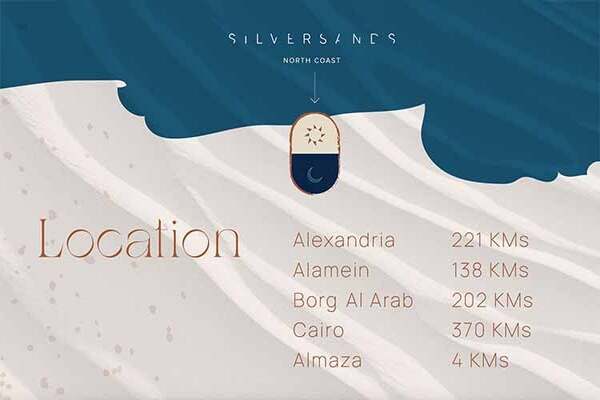 Places near Silver Sands North Coast
New Alamein City is approximately a 30-minute drive from Silversands North Coast.
El Alamein Airport is located a few minutes away from Silver Sands Village.
208 km separate Fouka Road away from Silversands North Coast, around 30 minutes.
Furthermore, it is located near the most prominent resorts of the North Coast, such as Mountain View Ras El Hekma and Cali Coast North Coast.
Silver Sands Resort is a 25-minute drive from Almaza Bay.
It is 202 kilometers from Borg El Arab Airport and approximately 370 kilometers from Cairo.
Its proximity to Ras El Hekma Bay.
Design of Silversands North Coast Resort
Silversands Resort is distinguished by international contemporary design with hints of European style, as Ora Developments enlisted the best skilled designers and engineers to present Silver Sands Resort in this luxury and sophisticated way.
All units within Silver Sands feature the highest quality of their exterior and interior designs, with direct charming views of the beach in the arms of beautiful nature, which is represented in large green spaces and eye-catching white sands, making it a one-of-a-kind resort.
Area of Silversands North Coast Resort

Silver Sands Resort extends on a large area of ​​485 acres with approximately 1,000 meters on the Mediterranean shore, as the largest percentage of the total amount is allocated for vast green spaces, integrated services, and facilities, and the rest is dedicated to buildings that are divided for between chalets, twin houses, and standalone villas for each individual to select the best unit for him in terms of price, design, and space.
Ora Developments Company was keen on offering various types and spaces to suit everyone, that can be explained as follows:
Luxurious ground-floor chalets with three huge rooms, have an area of 155 square meters.
Chalets with a large rooftop and four rooms beginning at 200 square meters.
The twin house has four rooms and a total area of 280 square meters.
The first-sea-row villas range in size from 312 square meters to 391 square meters.
Villas with a space of 360 square meters overlooking the sea, attached with a large garden.
In addition to the second-row villas from the sea, their spaces start from 300 square meters.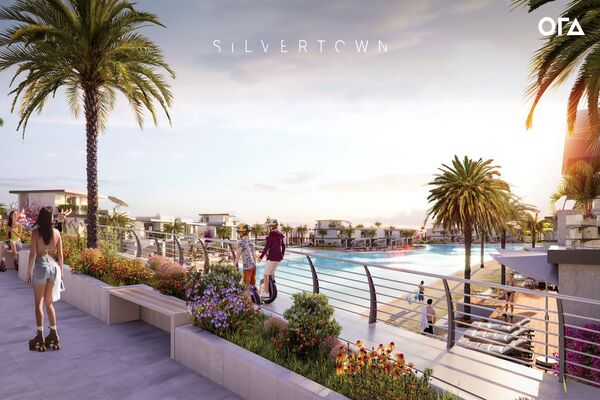 Features and services of Silversands North Coast Resort
Ora Developments Company has provided all possible facilities and services in its project, Silver Sands Resort where you will find everything you dream to enjoy a unique summer vacation on the North Coast amid dazzling views of the sea and nature.
The following are the most important services within the Silversands Village:
Wide green landscapes and artificial lakes are spread throughout the resort, giving you a sense of comfort and relaxation.
Silversands North Coast provides security and guard services that are highly qualified to ensure safety and security.
A large commercial mall, containing the most prominent international and local brands for shopping lovers.
There is a fitness club with cutting-edge technology, a gym, a jacuzzi, and a spa for men and women.
Swimming pools for all ages, adults and children, with a pool exclusively for women.
Silver Sands Resort North Coast contains a social and sports club available all day for families and friends.
A clubhouse that is fully equipped at the highest level to spend quality times with friends.
A number of international restaurants and cafes provide the best plates and beverages.
To avoid overpopulation, there are garages that can accommodate thousands of cars.
Silversands North Coast Resort contains a huge mosque where both men and women can pray.
A medical center outfitted with cutting-edge international technology.
Kids' Area is available within Resort Silversands North Coast for your children enjoyment.
Aqua Park is specifically developed for water sports enthusiasts.
An integrated self-extinguishing fire system to combat fires.
In the event of a power outage, the Village Silversands North Coast provides generators.
Silversands Village North Coast has a large hypermarket.
There are electronic gates to ensure the resort's security and safety.
Providing a high-speed internet.
A huge pharmacy to serve all types of drugs.
5-star hotel.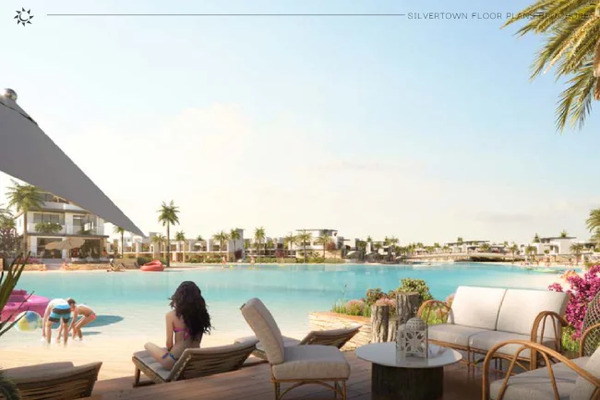 Prices and payment systems
Despite all these features and facilities available within Silversands Resort, all investors and businessmen surprised by the competitive prices of the resort compared to the rest of the prices of the neighboring villages on the northern coast, as the owner company wants to provide a golden opportunity for everyone who wants to invest or spend a special summer vacation inside the best resort on the north coast.
The prices of units vary as follows:
Chalet prices start from 6.5 million EGP.
While the prices of the twin houses start from 9.5 million EGP.
Standalone villas price starts from 15 million EGP up to 60 million EGP.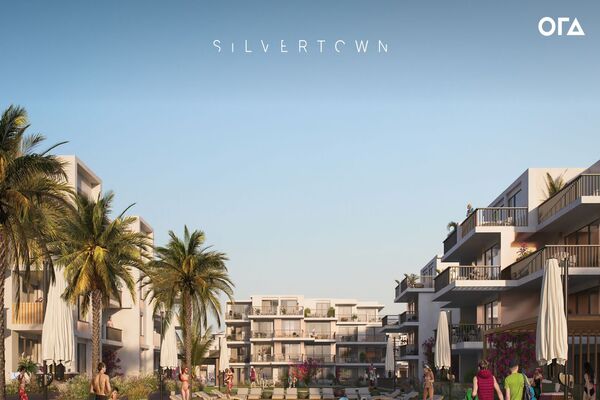 Payment systems of the units
Paying a 5% down-payment, and the rest of the total price in installments over 5 years.
Paying a 10% down-payment and the rest of the total price in installments over 6 years.
Paying a  15% down-payment and the rest of the total price in equal installments over 7 years.
Paying a 20% down payment and the rest of the total price in installments over 8 years.
The units are delivered fully finished system.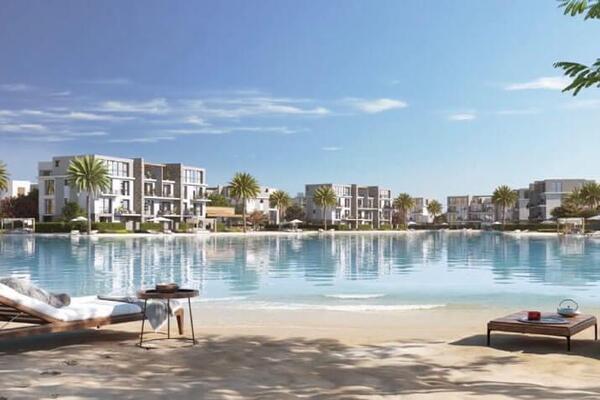 Disadvantages of Silver Sands Ora Resort
Some believe that the location of Silversands Resort on the northern coast makes it isolated from Cairo by a great distance, but the government has worked to facilitate many highways between Cairo and the northern coast to reach it in the shortest possible time.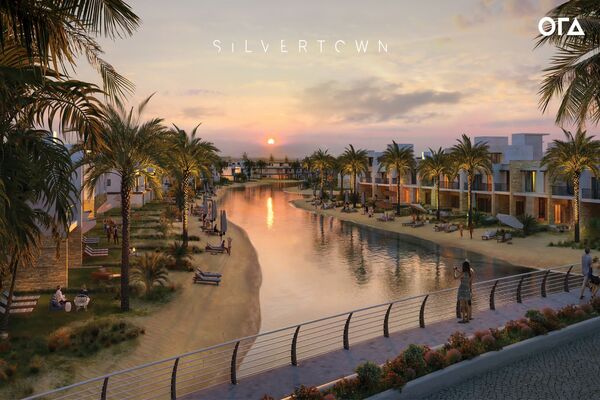 The owner company and its previous works
Ora Developments Company is one of the leading companies whether inside or outside Egypt, as it is owned by the well-known businessman, Eng. Nagib Sawiras, and the company aims to create innovative ideas in all its projects, with touches of elegant European style, especially in recreational resorts, which prompted a surge in the world of North Coast tourist resorts.
The company has carried out many successful housing, hotel, commercial, and tourism projects which designed according to international standards. As a result, it has drawn the attention of many investors and clients from all over the world, and its sales have topped billions of dollars both inside and outside.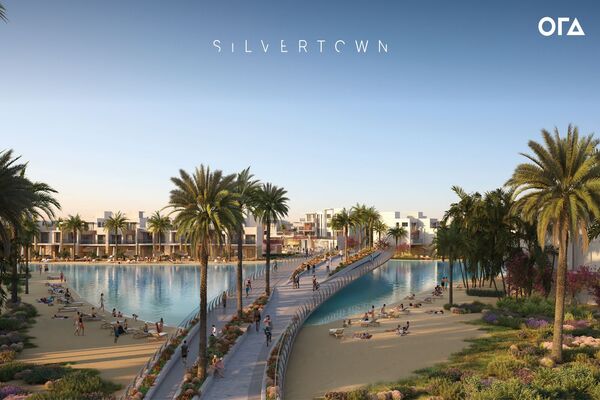 Projects of Ora Developments outside Egypt
Great Britain project.
Twenty Grosvenor Square Hotel London.
Ayia Napa Marina Hotel in Cyprus.
Silversands Resort in Grenada.
Eighteen Project in Pakistan.
Projects of Ora Developments inside Egypt
Compound Zed Towers El Sheikh Zayed.
Zed East Compound New Cairo.
Nile City Towers project.
Pyramid Hills Compound.
For inquiries and reservations
If you are looking for real estate either inside or outside Egypt, La Costa real estate platform is your main destination to give you whole information about all real estate projects and it is also your easiest way to reach what you want, whether your dream home or your new project in the finest areas with the best prices